We're having computer issues in the WSBGM's camp- Carson's is not working properly and I'm stuck in a crap-tacular apartment in Delaware and don't even have access. I just bum-rushed a hippie in a wi-fi coffee house and am literally typing this as I run down the streets of Wilmington, hippie in pursuit...Anyways, posting/commenting may be a little slow for a while, but on to the Thursday Thirst.......
------------------------------------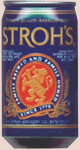 Wes Helms - Stroh's
- Back in the day, Stroh's was good. It along with Schlitz, Schaeffer, Schmidt's, were good, honest American beers brewed with quality and excellence. However, somewhere along the way things changed. They were bought my different companies, recipes were changed to brew them on the cheap, and they became cut-rate, horrible tasting beers that have become nothing more than a beer to throw in your trunk to
drink when you get the shakes
. Also at one time, Wes Helms could hit. 23 homers one year, .328 average another. Then he comes to the Phillies and plops down something in the .250 range. Another lost cause, except this one gives you the shakes instead of relieving them.
------------------------------------
David Bell - Schmitts
Corey
____________________________________
Random Sh*t:
Via tele-conference from Delaware, Corey and I were able to collaborate on some thoughts about the game and the Phillies in general.
*Happy friggin' birthday Aaron Rowand. Poor Fence-Face found out the hard way that it's all down hill after 30, as he struck out all 4 times he batted last night.
*3-2-1 Whiff! After yesterday's piece on Ryan Howard making contact, he failed to do so in his first 3 at bats, but then did
connect
for a double in his 4th trip to the plate.
*Chris Wheeler called Rockies starting pitcher Jeff Francis "a good looking left-hander". I wonder what he would think of the right-handed non-baseball playing Brad Pitt.
*We've come to a 2-man consensus that Charles Fuqua Manuel is a retarded hick with a speech impediment after listening to far too many of his interviews.
*I'm not sure why, but Corey and I both feel former Mets
Tim Teufel
and the Hairy Monkey Nipple himself-
Sid Fernandez
(also a Phillie) deserve a shout out. Corey had some beers in him and I was laughing too hard to truly understand the relevance (if any) of this. Honestly, we love the monkey nipple!
*Marlon Anderson is secretly still a Phillie, that's the only explanation I can offer for his stupid attempted tackle on Iguchi that lead to the automatic double play to end the game due to interference (the correct call by the way).
~Carson