For this week's Thirsty Thursday post, I decided to feature two players who figured prominently in last night's total crapfest. One good, one not so much...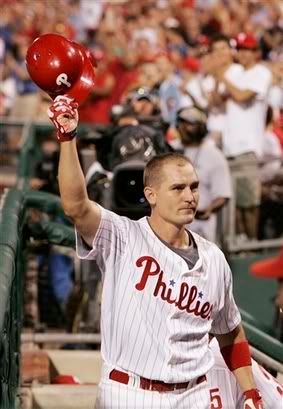 Chris Coste - Miller High Life
- Deciding which player I would assign the High Life to was a tough call. I'm a High Life Soldier and appreciate the Champagne of Beers to the utmost, so not just any player would be deserving. After deliberation, I chose Coste, and here's why. I feel the High Life may be the most underappreciated beer around. You'll hardly ever find it on tap. It's even tough to find a bottle of it at the local watering hole. It's openly put down and mocked by beer drinkers "in the know" (represented in this analogy by Pat Gillick) as inferior. Yet, when it's hot outside and you've been playing golf, lounging on the deck, or busting your tail with a "honey-do" list, nothing is more refeshing than a longneck Miller. It never disappoints. Also, it won't kill your budget, as a case could run you as cheap as $11 or $12. High Life at Genesee and Schaeffer prices, although you won't pay much, you get a superior product. That is Chris Coste, an underappreciated, productive, inexpensive American product that is loved by true fans.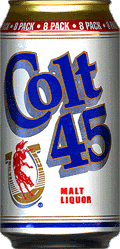 Jose Mesa - Colt 45
- My friend Gut once said to me, "Colt 45 makes you angry. You drink that stuff, you might end up fighting somebody." Well, that's kind of how I feel when Joe Table comes jogging in from the bullpen, a little bit angry and definitely ready to fight someboy. And don't believe a word Billy Dee Williams says about the Colt in the commercial below. He sold out his boy Han Solo and gave him up to Boba Fett. For what, Cloud City? Not a man to be trusted. [Also, if I were casting
Return of the Jedi
with Phillies, Mesa would get the part of Lando.]
Corey