Benito Santiago
Lots of things happened in the baseball world this week. Former Pirate and former normal-sized human being Barroid Bonds broke Hank Aaron's homerun record. The Phillies have jumped into the Wild Card chase and to support their cause they traded for strikeout machine Russell Branyan. Steroids. Strikeouts. Phillies. Hey, sounds like Phucco great Benito Santiago to me.
Santiago signed as a free agent for $1.7 million in 1996 after a year with the Reds and caught 136 games. He had quite a good year, as his .264-30-85 lead the Phillies in home runs, RBI, OPS, and strikeouts. However, it wasn't enough to overcome a less than stellar supporting squad and the team went 67-97 to finish 29 games back of the Braves. He obviously had enough of the Phillies excellence after that and signed a two year, $6.5 million dollar deal with Toronto after the season.
Santiago finished his career after playing 6 games and earning $2.1 million with the Pirates in 2005. He won four Silver Sluggers, 3 Gold Gloves, an NLCS MVP, and had had 5 All-Star appearances. He also played a major role in the BALCO steroids scandal. He, along with then Giants teammates Armando Rios and Bobby Estalella, testified that they took steroids given to them from Bonds' trainer Greg Anderson.
-----------------------------
Branyan Quickie
In 2000-2002 Branyan hit 60 homeruns, over half of the 118 total he has hit since his debut in 1998, clearly the best three year stretch of his career. No surprise his manager for those years was Fuqua himself, which explains
this quote
from the skipper: "If I know the guy, I don't look at that," referring to his .197 average. "I don't grade the guy out that way." So he doesn't use performance and productivity to grade his players...hmmm....at least that explains why No-Hit Nunez still gets playing time. But, what does he use to evaluate players? Favorite color? Shoe size?
-----------------------------
Minor Bucco Update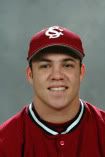 Pirates first base farmhand Steven Pearce is freaking tearing it up. He started the year in A ball, and has worked his way up to AAA, where he is 10 for his first 28 with 2 jacks. Overall, he is batting .347 with 27 homers and 100RBI (as of 8/9/07) across three levels. He was 22 coming out of the University of South Carolina, but his quick rise through the system this year has made him a bonafide power-hitting first base/right field prospect. Of course, GM Dave Littlefied is not quite as impressed. He had this to say about Pearce.
"He's grounded into 11 double plays already this year, and as you may know, double plays are worth two outs, not just one. So every double plays cancels out one hit. And if you cancel out 11 hits, all from his time at AAA, he would then be -1 for 28, which is a -.035 batting average. I don't think anyone hitting below zero is much of a prospect."
I look for Pearce to get demoted to the Gulf Coast League or traded to the Cubs for Bobby Hill...
Corey