Phucco Matt Kata got a HUGE three-run, 2-out double in the 7th inning to bring the Buccos within a run. The Pirates then rattled off 3 more hits for 4 more runs against Romero and Alfonseca, the best (ugh) the Phils have to offer in the 7th/8th innings.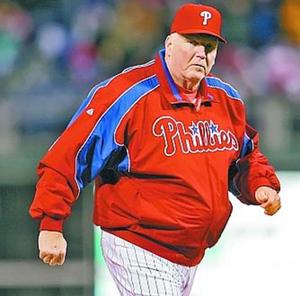 I'm not blaming the loss on Fuqua, but...
He again used three defensive substitutions before the 7th inning. And one of them, leftfielder Jayson Werth, fielded a hard hit single off the bat of Xavier Nady but was unable to even throw a ball home as the second runner scored uncontested from second. What a defensive substitution that was.
Fuqua was able to use every bench player except the backup catcher before the end of the 8th inning. With a bullpen as bad as the Phillies, is it so hard for Manuel to comprehend that the opposition may score 4 runs in 3 innings? Using up the majority of the bench in situations like this is inexcusable. It didn't cost the win this time, but it didn't help the cause and it's not good baseball.
-----------------------------
Back to 1 game behind in the Wild Card after a San Diego win. Up next is a big homestand with LA, NYM and SD coming to town. Losing 2 of 3 to Pittsburgh (somebody predicted that before the series...) is painful. Not taking the series against a last place squad is not the best way to make the playoffs. In fact, it's a very bad way to make the playoffs. .500 on this homestand won't cut it. It's a lot to ask, but they need to win each series, with obvious special emphasis on the SD games.
Corey