No game last night to speak of, so here are some random tidbits from around the PA baseball universe...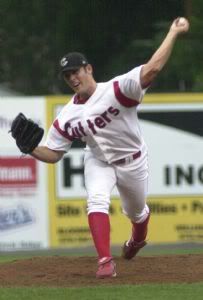 Phillies notes:Joe Savery
pitched three shutout innings in his pro debut on Sunday night with the Crosscutters, allowing a hit, walking none and striking out two. Phuturephillies.com
posed the question
, "Where should Savery start next year?" I say Clearwater with a short-leash pull to Reading if his shoulder is healthy.
Mike Costanzo
has 22 homers for Reading, which is leading the Eastern League. Unfortunately, he's only hitting .255 and striking out at a Howard-like pace. He has 132 in 111 games, to 61 walks. It is concerning that his average drops every time he jumps a level. It is very concerning that he has 30 errors so far this season. But if he could hit .260-.270 with above average power and improve his D, he could be a nice, cheap option for 3B in '09. Is he Wes Helms with power? At league minimum, I'd take it.
Charlie Manuel
still sucks. I will give him credit for making his players show up and play hard for him, he obviously is the greatest motivational speaker since
Matt Foley
. Well la-dee frickin' dah. He's been a garbage manager since day 1, successfully mismanaging winnable games into losses, and I will not rest until he is fired. I won't give up.
Did we give up when the Germans bombed Pearl Harbor? Hell no! And I won't give up now. Who's with me? Let's go!
Pirates notes:
Speaking of stone-handed third sackers, the Pirates' have
Neil Walker
and he is doing pretty well in Altoona. Walker, at age 21, is hitting .287-12-57 at AA Altoona. He has 24 errors, which is a lot, but considering this is his first season at third after being converted from catcher, it is expected at this point. I never saw Walker catch, but at 20 years old, was he that bad that he needed to be moved to third? And if so, couldn't they see the same thing three years ago when he was drafted? He would be soooooo much more valuable behind the plate than at third, it is unfortunate that he was that bad or that they gave up on him already. And that make two catchers with potential power (Walker, Doumit) moved out from behind home plate for "bad defense" while Pirates starting catcher Ronnie Paulino may be the laziest and worst defensive catcher I've watched this year, his .242 average notwithstanding.
Matt Morris
makes $9 million next year. Unless they are planning to play "Flip This Pitcher" in the offseason, this is disgusting. Some retards see this as an example that the Pirates are going to start spending some money. I see it as another in a long line of ridiculous moves by Dave Littlefield, the Charlie Manuel of general managers.
Phucco
Matt Kata
, who finally hit over .200 (.214 with the Buccos) after hitting less than that with his three previous teams, is finally back in the minors. His next stop better be the Independent League...
Lefthander
Shane Youman
and his sub-5 ERA was pulled from the rotation when Morris arrived, but
Tony Armas
and his 6.31 ERA has kept his spot. Yeah, that makes sense in Pirates-World.
Corey