I was in Philadelphia this weekend on a "weekend getaway" type visit, and because it was supposed to be a relaxing trip, I refrained from hopping on the Orange Line to catch one of the debacles down in south Philly. I did watch a good bit of Phillies action though. Problem is, the freaking Doubletree charged 10 bucks a day for internet access so I wasn't able to throw down any words until now. Here is my take on the weekend action.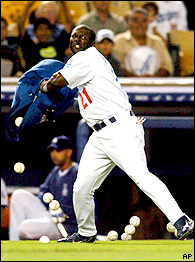 First, Milton Bradley. Lots of things can be said about his actions on Friday and Saturday. Words like arrogant, selfish, inappropriate and disrespectful come to mind. But regardless of what you, I or anybody else thinks about his infuriating performance, what he did do was come in to Citizens Bank Park and dominate. He made Philadelphia - the fans, the team, the cheesesteaks, everything - his bitch. I wouldn't want Bradley on my team, but just once I would love to have a Phillie stick it in the face of the opposing team like that. Was there any doubt the Padres would win the game after his 8th inning shot? No way. Bradley had won it with his bat and his mouth.
Of course, Bradley can pose and jabber all he wants, because the Phils aren't going to stop him. The title of this post isn't in reference to the Phils' playoff chances, but rather their unwillingness to stick one in Bradley's ribs. With two outs in the top of the 5th and the Phils holding a 10 run lead, Bradley flew out to centerfield. No way should he have gotten a chance to swing. The Padres made sure to impress upon Carlos Ruiz their feelings about his slide into second on Friday, yet Bradley's actions go unpunished. It shows a lack of heart, a lack of fight, and a lack of leadership. I don't mean to bring up 1993 for every topic, but would this have happened then? Would Hollins, Kruk, or Daulton be satisfied by the Phils' response? Probably not, they would be as disappointed as I am now..
--------------------------
Bob Ford Is Retarded
Bob Ford, "writer" for the Inquirer, is described on their website as a "general assignment writer with a specialty in Olympic sports." I think they meant to write that he participates in Special Olympics, because Bob wrote a piece for Sunday called, "
Believe it: Manuel is manager of the year
," that is truly "special." Here are the reasons Ford gives for Manuel as Manager of the Year:
1. He has "[held] together a team that should be splintered and sinking."
2. "They have played every game hard."
That's it. Twenty paragraphs. One thousand words. Two crappy arguments. One giant cliche.
His points against Manuel are better. "Charlie Manuel hasn't become more adept this season at public speaking. He hasn't trimmed the wild hairs of his in-game strategies...He hasn't challenged his team publicly." So he's an unintelligent, poor game manager who's laissez-faire attitude has seemingly created a team susceptible to intimidation without the fire and fortitude to fight back? Okay, I buy that a little more.
And just in case you do see how ridiculous his article is and may want to disagree, Ford preempts your alternate viewpoint by mocking you. He says, "This won't sit well with the howling hyenas of this town, who, right this moment, have gone to the kitchen drawer to find crayons so they can scrawl their e-mails on the screen of mom's computer." What a pompous ass. What's worse than insulting your readers, is recycling an old blond joke (white out on computer screen, yadda, yadda...) to do it. Weak, Bob, very weak.
--------------------------
Wickman
Also from the Inquirer: "General manager Pat Gillick said the Phils had no interest in the Braves' Bob Wickman (3-3, 3.92 ERA, 20 saves in 26 chances) or the Dodgers' Brett Tomko, who were designated for assignment. "We just can't fit them on our roster," Gillick said." Is Wickman better than Tom Gordon? Yes. Okay, found a spot for him. Seriously though, they can't find a roster spot for a veteran reliever with a sub-4 ERA and a chip on his shoulder? Is John Ennis that valuable? I just don't get it.
Corey