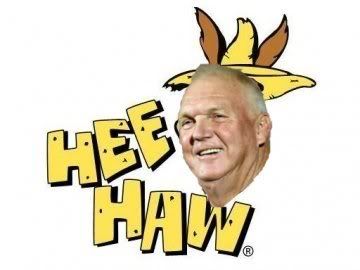 Top of the eighth inning, up by one run, nobody out, Rod Barajas doubles...Fuqua sends Carlos Ruiz to run for Barajas, leaving Pat Burrell as the only position player on the bench. All the Phils need in this situation is to sacrifice an out, move the runner to third for Rollins, and push across an insurance run for the 'pen. So who should be put in to bunt Ruiz over to third instead of Romero, who has never been in the NL before? Hamels? Moyer? Kendrick? Nope, all wrong. Manuel sends his last position player, .203-hitting Pat Burrell to the plate. No way Burrell is hitting a grounder to the right side, the way he pulls off the ball. With his average in the last two months, it is unlikely he's going to get a base hit. Basically, Fuqua is playing the 4% chance that Burrell will hit one deep, and Ruiz can trot home at a slightly faster pace than Barajas. The result: predictable useless out from Burrell, the Phils don't add an insurance run, Lance Barksdale screws them, and Joe Table gives up the game-winner to some skinny little spaz.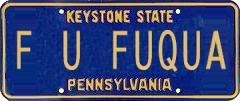 Complain all you want to about the umpire as that was one of the worst calls at the worst time you will ever see in a major league baseball game not involving the Yankees, but that didn't cost them the game. And neither did Propane Joe and the combustible bullpen. No, this game was squandered by Fuqua and his complete ineptitude to manage a National League baseball team in a close game.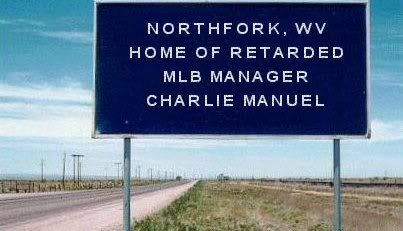 He replaced three position players in a one-run game! Does he forget that there is no DH? Is it too difficulty or mind-boggling for Manuel to comprehend that the opposition may score a single run to tie the game and extend it to the point where he may have to pinch hit for a pitcher or two? Do you think he even considered moving Barajas/Ruiz to third with a bunt? I say yes, yes, and no.
The Phillies may have no shot at the playoffs this year based on their starting pitching situation, so the shackles of retardedness that Charlie Manuel has locked onto this team don't really matter. I just hope that when they are in real contention, he's not there to hold them back.
-----------------------------------
Helen Keller Thinks You Blew That One...
This is a picture of Lance Barksdale. He sucks.
Bentz - "You know it is becoming obvious that you must need NO qualifications to be a major league umpire." How very untrue. You need vision superior to "legal blindness," along with the ability to make up balks when none exist, dust off homeplate with a small broom, click that stupid counter after every pitch, remember to clear it after each batter and inning, and stay thinner than Eric Gregg. You also need a fancy fist-pump or downward punch to pronounce an out, and you must be able to do it with varied ferocity depending on which team you are rooting for. Oh, and you must not have a soul.
Happy Independence Day.
Corey