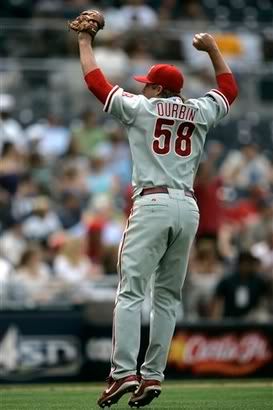 In golf, Saturday is called "Moving Day" because after the Friday cut, Saturday is the time to move up (or down) the leaderboard to put yourself in position for a run at the trophy on Sunday. This week should have a "Moving Day" feel for the Phillies.

After taking the final three in San Diego, the last game being an improbable victory by JD Durbin against Jake Peavy, the Phils return to the east coast for a six game homestand. Even better, they face the last place Nationals and the struggling Pirates.

The Nationals are 14 games under .500 and have wone 4 of their last 5. Those two don't go together, they are due for a tumble.

The Pirates have only won one game since the All-Star break and they have to play the Mets for three before coming to Philadelphia. Snell and Gorzelanny go in the first two games in the Big Apple. If they lose those two, the Buccos could be coming to town without Jim Tracy.

Anything less than 4 wins will be a disappointment.
------------------------------------
Kyle Drabek
So Kyle Drabek is getting Tommy John surgery. Is anybody surprised. I said this about Drabek when he was drafted: "He's very upright in his delivery with a medium stride to home. Delivery does not seem to be consistent with variation in his upper body position and release point. Very little lower body in delivery." Rarely can a pitcher with poor mechanics get away with chucking it like he does and snapping off 12-6 curveballs without getting injured. Even guys with solid contributions from their lower half (Kerry Wood, Mark Prior) put tons of strain on their elbows. Watch the video and you'll wonder how he made it this long without ligament damage.
Enjoy the off-day.
Corey