From Yahoo! sports: "Phillies reliever Ryan Madson was placed on the 15-day disabled list with a strained right shoulder after Philadelphia's 5-1 victory over Pittsburgh on Sunday. Reliever Geoff Geary was recalled from Triple-A Ottawa and will join the team for Monday's game in Chicago against the Cubs..."It's been bothering me for a few days but I thought I could throw through it," said Madson, who will have a MRI on Monday. "Brett has already given me advice on the injury."
What was the advice, "Pitch through the pain?"
Madson was actually throwing pretty well, his ERA was down to 3.05. Another knock on an already depleted bullpen. They can't play the Pirates every game...
On a positive note, Gas Can and his disturbing face are back from Canada.
--------------------------------
Wild Card Chase
Despite the pitching, despite the injuries, despite Pat Burrell's first 5 months, here are the Wild Card standings:
             W - L GB
Arizona      58-49 --
San Diego    56-48 .5
Chicago      55-48 1.0
Philadelphia 55-49 1.5
Four HUGE games against the Cubs starting today. Let's hope Hamels starts them out on the right foot.
--------------------------------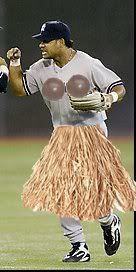 Abreu Watch - Back to Philly?
Even though the Phils got basically nothing in return for Bobby Abreu, I was one of the few who thought the "addition by subtraction" theory of the trade was valid. The day of the trade, I said, "He is owed $15 million next year, and his skills are in an obvious decline. For a team like the Phillies, it is difficult to defend paying a player who hit below .300 and below 20 homeruns that much money, regardless of his OBP...They are trading a player with a good, not great, history, with a huge contract, and declining skills." The idea of his "declining skills" was not a popular one on the blogs and I took a lot of grief. Therefore, I feel the need to shove his crappy numbers up the noses of the people who didn't believe me. Today's installment: a comparison to Pat Burrell. We are all aware of Burrell's troubles this year, getting benched for about a month and hitting 6th for most of the year. He has had a good 4 weeks, but overall, he's had a terribly disappointing season. Here are Burrell's, then Abreu's numbers:
.255-13-53-.872
.270-8-61-.750
That's pretty ugly. How can the Yankees continue to bat this guy high in the order? Could you imagine the Phillies paying these two almost 30 million dollars to put up these numbers? The Phils saved almost 23 million dollars by trading this mediocre player.
Abreu is having such a down year, the Yankees have the option of paying him $16 million next year or buying him out for $2 million. The latter seems more likely, making Abreu a free agent. Where should Abreu go? How about Philadelphia? If Abreu would accept far less money than he has received recently (which he might have too, because the list of teams willing to pay over $10 million for him will be small to non-existent), and Rowand leaves, an outfield of Burrell, Victorino, Abreu could be interesting...especially if you believe that Abreu is having trouble with the "bright lights" and pressure of NYC. A trip back to warm and cuddly South Philadelphia might do him good...
--------------------------------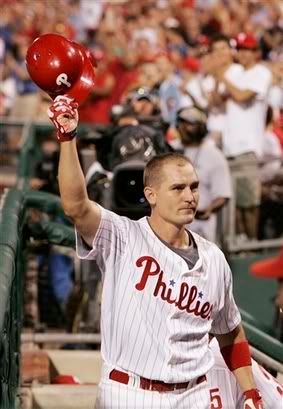 San Cristobal
Patron saint of sticking it to Pat Gillick
...that curtain call two days ago was great, he might as well have pointed a middle finger back at the GM's box for making him sit in Reading for the last few months.
I know I'm beating a dead horse, but Chris Coste is now hitting .349, after hitting .328 last year. When Jayson Werth come back from the DL, Rod Barajas should be released. However, if that happens, when Ruiz catches, Manuel can't use Coste to PH. What I would do, since
I Should Be GM
, is release Werth or Nunez or Helms, since Dobbs is the teams 5th outfielder and backup 3rd baseman. Whatever those numb-nuts in the front office do, they have to keep Coste. If they don't, I may lead a storming of the Bastille, err, Citizens Park.
Corey