I'm stupid. Two nights in a row I go to sleep with the Phillies winning, fairly confident they'll hold it, only to wake up to a loss. I've seen my share of the 9,999, so I should know better by now. The first lead was 6-1, and last night they were up 3-0 and still batting in the first when the game was delayed. After the rain, they only had 4 hits and were outscored 6-0. Nelson said that "After the rain washes away the tears, and all the pain; only after the rain, can you live again." But you can't get hits in Colorado. Damn.
Frankly, I can't talk about losing any more today. Instead, enjoy Nelson's "After The Rain." It's obvious the guy at the beginning of the video is a Phillies fan and is angry his son is living an "alternative lifestyle" as a Nelson-living Mets fan...
-------------------------------------------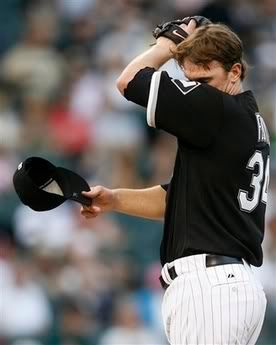 Others Who Suck
Check out
this post
from a ChiSox fan before Floyd's call-up to the majors. I especially like the part when he says, "I'd like to see how he performs in 12-15 starts with the Sox." Ummm, no you wouldn't. One start (5.2 innings, 6 runs, 4 walks, 2 strikeouts) is pretty much all you need. If it wouldn't be for Floyd, Abreu and the Yankees being so atrocious, I would have nothing to be happy about in baseball.
-------------------------------------------
And Finally...
Pat Burrell was listed as the the NL Least Valuable Player by
Jayson Stark on ESPN.com
. Nice to see Phillies winning fake awards.
The Cy Yuk went to Kip Wells, who should feel lucky, he wouldn't have had a chance at that award if Freddy Garcia was healthy.
Corey