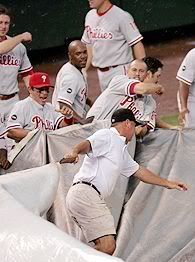 It was fun to see the Phils as a team chip in and help the Rockies ground crew during the delay yesterday. Of course, when I think about 80 million dollars in payroll on the ground in the pouring rain yanking on tarp and throwing sand bags around, I think less of it. I liked it, but I hope it doesn't happen again.
My favorite part of the game was not the tarp incident. No, I like
Jimmy Rollins wearing his pants high
and showing some sock, Jamie Moyer style. They don't put that little Liberty Bell logo on there for nothing. Hopefully this is a full-time move.
Gavin Eaton improved to 8-5. Can he possibly win 16 games with an ERA of 5.69? I think the offense may just be good enough. And if they get a 5th starter that is even just a notch above JD Durbin, they can stay in the race for at least another month or two.
Pat Burrell hit his third homer in 5 games and raised his average 14 points. Now he's only 10 points below Adam Eaton...
----------------------------------------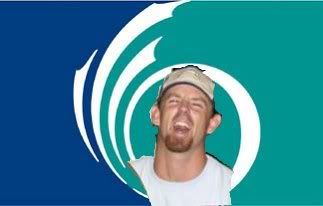 Ottawa Sucks
...if you are Geoff Geary, that is. Geary went from being the Gas Can (5.44 ERA in '04) to being a solid mid to late inning reliever (2.96 ERA in '06) to being sent back to AAA. He's not tearing it up for the Lynx either, giving up 3 runs in his first 5 innings of work. Still, I miss him. I hope Canada appreciates the Gas Can the way I do. To help them along, I have re-done the city flag of Ottawa to be a little more Geary-friendly.
----------------------------------------
WSBGM's Girl of the Day
You want it, you get it. Here is some gratuitous cleavage...
Corey