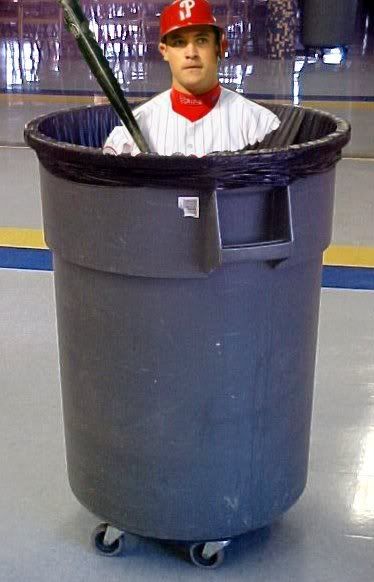 Not since fat-ass Scientologist Kirstie Alley started the Jenny Craig program have we seen a race to 200 quite like this. A few months after Alley surpassed the Mendoza line by dropping 75 pounds and sported a bikini (ugh) on
Oprah
, Pat Burrell has plummeted his average to an area even Abe Nunez has yet to explore.
After this weekend, Burrell is now down to .205, 75 points lower than it was at the beginning of May. I wrote last week about the end of the Pat Burrell Era, but even so I was still supporting him. I looked at Burrell's Mendoza-hovering average with the rosiest colored glasses of all time, seeing potential instead of reality. I feel like a family member of an addict on the show
Intervention
, waiting for that bald guy to get hired as a hitting coach, admit Burrell to some sort of hitting detox center, and turn his season around. But I realized on Saturday, after watching Burrell desperately and unsuccessfully try to turn a low and away slider into a homerun to leftfield, that it isn't going to happen. I have to give up on Pat the Bat. The days of me being a Burrell supporter are over. End of era #2 for this week...
It's not helping Pat's cause that Michael Bourn got three hits in the game yesterday, an accomplishment Burrell has reached only twice in 61 starts this year. Bourn has speed, defense and a .304 average; Burrell has a huge contract and the look of an underachiever. I say Bourn has to play everyday in left until, like Burrell has done this year, he proves he can't.
And memo to Kirstie Alley: you're still a fat-ass. The only people who benefited from your cow-in-a-scarf routine were bulimics with broken fingers. I think Oprah was even disgusted, but the gravitational pull from your ass wouldn't let her get away. Jeebus, put some clothes on.
Corey