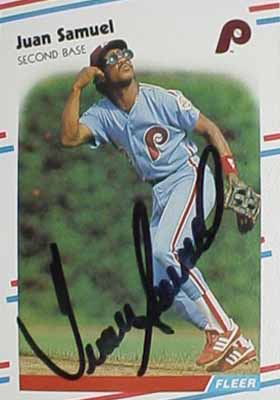 With the Phils set to open a series against the Tigers, I decided to phlashback to a great Phillie and a great Tiger: Juan Samuel.
Samuel was signed as a free agent out of the D.R. in 1980. He was the starting second baseman by 1984, playing the next 5 1/2 years in Philadelphia. In each of his first four years, he hit over .260 with at least 15 homers. He made two all-star teams, finished 2nd in the ROY voting in 1984 (losing to super-rookie Dwight Gooden, but finishing ahead of Terry Pendleton, Orel Hershiser and super-mullet Danny Gladden), and won the Silver Slugger award in 1987 when he hit .272-28-100.
Despite his fine hitting stats (especially as a second sacker), many phans remember him for his high strikeout totals and horrendous fielding. An NL manager, when asked whether Samuel or Gooden should win the ROY Award said, "I don't know, they're pretty close in strikeouts, aren't they?"
Samuel was moved to CF in '89 (to the glee of Phillies pitchers) and later that year was traded to NY for Len Dykstra and Roger McDowell. (Dykstra helped the Phils win the '93 pennant and McDowell was later traded for Braulio Castillo, both important pieces of Phillies history.)
Samuel bounced around the majors after that, playing for LA, KC, Cincinnatti, Detroit and Toronto. After his playing days, he coached for the Tigers for a few years, then managed the Mets AA team. Currently, he his coaching for the Orioles.
---------------------------------------
Kyle Kendrick
I hate to sound like a pessimist, but the praise laid upon young Kyle Kendrick may be a little shortsighted. Kendrick did a fine job of keeping the Phillies in the game on Wednesday, but that is about it. Yet he's being annointed the savior of the 5th spot in the rotation after only one start.
Philliesflow.com
said he was "impressive."
Benjah
called him "awesome." Carson listed him as one of the "reasons the Phils stand a chance to keep winning." What did I miss on Wednesday? The guy was one missed diving catch by Jason Werth away from giving up 5 runs in the first five innings. I'm not going to rip the guy either, he pitched well enough given his situation, but he was far from awesomely impressive and he's as much of a savior at this point as Joe Table. His next start is against Cleveland, who unlike Chicago can score runs. He will more than likely get lit up. I hope I'm wrong, but I'm not on the Kendrick Bandwagon yet. I think everyone is just glad somebody was out there that
looked better than Freddy Garcia
. I also like what
Whiz With
had to say about the game.
---------------------------------------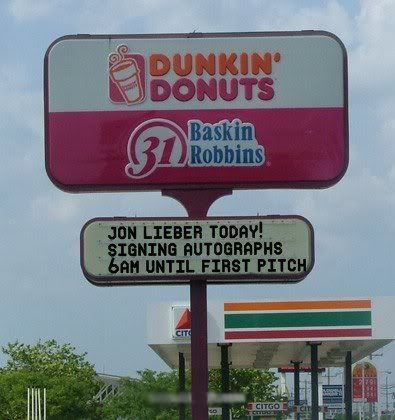 Tonight's Game
Lieber gets the ball tonight for the series opener against the Tigers. The Donut-Eater, along with our other two starters for this series, Moyer and Gavin Eaton, better bring their "A games." Not only does Detroit have a very potent offense, the three pitchers the Phils will see are a combined 15-2 with the highest ERA being 3.63. Ouch. This could be a long series.
Corey