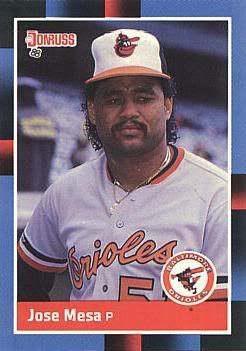 I want everyone to think back to their childhood and try to remember what you were doing when you were 7 years old. I know what I was doing. I spent most of my time playing Super Mario Bros. on Nintendo, sorting through 1986 Topps baseball cards looking for the most valuable ones (Don Mattingly, Wade Boggs, etc.), and mowing down opposing batters with my 20 MPH heater in little league (I know, not much speed on the fastball, but I had pinpoint control and Kevin Brown-like movement.) I know what I wasn't doing. I wasn't fathering children, like our recent signee Jose Mesa. How I never heard of this before is unbelievable, but on Jose's
official MLB biography
it lists a daughter, Yamely, born in January of 1974. If that date and Jose's birthdate is correct, that would make Jose 7 years old at time of conception. Damn, my stuff was good in Little League but it didn't help me pull tail. What was Mesa throwing down in the D.R.? Hats off to Jose Mesa, child father, aka Padro Nino.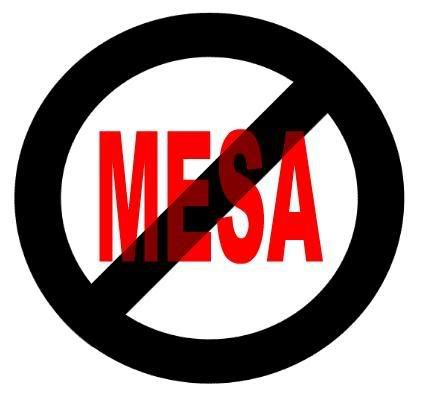 Speaking of Padro Nino, today is Day 4 of my "Say No Way Jose Campaign." The campaign, like my fire "Fire Charlie Manuel" project, consists mainly of constant, relentless complaining about and mocking of said target. Feel free to join. And click on the image to the right, it makes a fine desktop background. Confuse your co-workers as to your strong objection of elevated areas of land with a flat top and sides that are usually steep cliffs...
----------------------------------------
Replacement
It looks like Freddy Garcia will be sidelined for an extended period of time. The Phillies starting staff, a few months ago had a surplus of arms, now is one short. Who will replace Garcia in the rotation? The Phillies announced on Monday that AA pitcher Kyle Kendrick will pitch against the ChiSox on Wednesday. Before I heard the news, I wrote about some possible options here: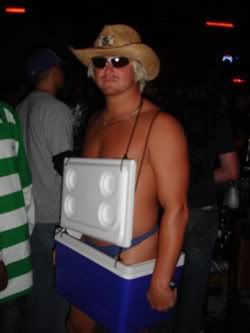 JD Durbin
-
Durbin
was a second round pick out of high school for the Twins in 2000, and was a pretty big disappointment for them until this year, when he was released at the end of spring training. The D-backs picked him up, he pitched 2/3 of an inning and gave up 7 runs. He was disignated for assignment and the Red Sox picked him up, but designated him before he even pitched. The Phils then had their turn. They designated Durbin also, but this time he cleared waivers and was sent to Ottawa. In Ottawa, he has started 7 games and has a 5.13 ERA and a 1.56 WHIP.
I've never seen Durbin pitch so I don't really have any clue what this guy has in the tank, but he did have a 2.33 ERA in 16 starts for AAA Rochester last year as a 24 year old. And in his first 5 years of pro ball, between rookie ball and AA, he never posted an ERA above 3.19. He's been from Minnesota to Arizona to Boston to Philadelphia in a short period of time. That has to effect a pitcher's mental approach and hurt the ERA. But regardless, he's not throwing well right now, so I say leave him in Ottawa until he starts pitching better, then consider him for a few starts.
Of course, whatever Durbin's skill level, he did have a pretty
decent Myspace page
at one time. That alone may qualify him for this team.
JA Happ
- former Northwestern Wildcat lefthander and Phillies' 3rd round pick in 2004, Happ went from A to AAA last year and had great numbers. This year, he is 1-2 with a 4.09 ERA. I would much rather see Happ get a start or two befor any other minor league pitcher. Then again, he's on the disabled list, which isn't conducive to pitching...
Kyle Kendrick
- Kyle is pitching well right now in AA Reading (4-7 , 3.21 ERA, 50 K to 18 BB.) That said, it's AA. Remember the last AA to MLB starter for the Phils, Zach Segovia. He had a 3.11 ERA over a whole season in AA then got lit like a torch in one start for the big club this year. AA to MLB is not a jump to be taken often with pitchers, leave the kid in Reading. (Like I said, I wrote this before the announcement. Obviously the Phils don't agree with my theory.)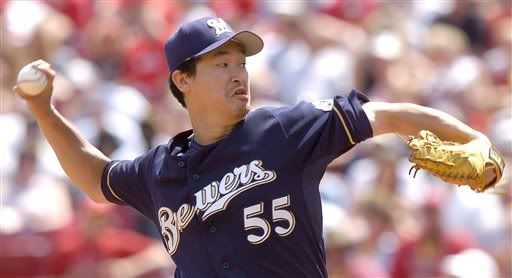 Tomo Ohka
- Ohka was released by the Toronto Blue Jays on June 7th after he posted a 5.79 ERA in 10 starts. He had good numbers through 2005 pitching in the NL. The switch last year to the AL was not so good. If he clears waivers and the Phils can sign him for cheap, he may not be a bad verteran option.
Brett Myers
- Looking over the list of jokers above, I think it is clear that Myers needs to be put back in the rotation when he is able.
----------------------------------------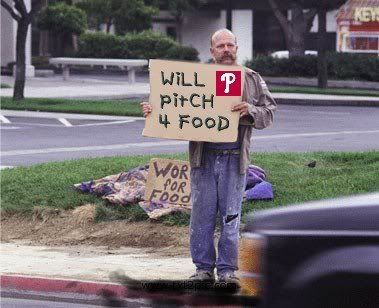 Bullpen Help
According to Phillies.com, the team is about to sign this guy (pictured at right) to a one year deal. Little is known about the man, originally thought to be ex-trainer Jeff Cooper. Apparently, GM Pat Gillick was driving through Fishtown yesterday and he washed the windshield of his car. Not having any spare change, Gillick offered him a contract to pitch some long-relief. Gillick described the mystery pitcher as a "veteran pitcher...a crafty left who knows how to get hitters out." He only got a minor league deal, so he'll probably start out in Ottawa.
----------------------------------------
Last Night's Game
Nice 3-0 victory over the offensively-challenged ChiSox. Gavin Eaton "clutched up" last night with 7 strong before Uncle Charlie pulled him for pinch-hitter Wes Helms in the bottom of the 7th with men on 1st and 3rd and one out. Of course, Helms hit into a 5-4-3 DP. However, I won't rip Charlie for this one. That fourth run is huge and no need to push your luck with Eaton past 7 innings. So Manuel gets a break from getting ripped on this site...at least for today.
----------------------------------------
Tonight's Game
King Cole versus 87 year old righthander Jose Contreras, aka Cuban Morgan Freeman. Mr. Freeman had a good start versus the Yankees his last time out, but in his three previous outings he gave up at least 9 hits per game. Combine that with King Cole's unhittableness (word?), Jim Thome on the bench and Chicago's lack of scoring, and I'm thinking of chalking this one up for the Phightins now . However, I'm heading to the ballpark for this one, so the curse of me being there might be enough to reverse all the other stuff...
Corey