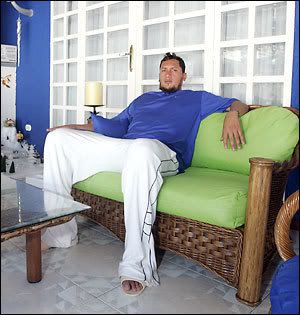 File under: Bad Off-season Acquisition.
I don't care if they did get rid of Gavin Floyd, this still has turned out to be a poor move. Garcia has started 10 games, and quite frankly, has been nothing short of pure garbage in most of them. The noted "innings eater" has gone past the 6th inning only once. He looks old, tired and disinterested. He's got Jamie Moyer's fastball and Gavin Floyd's mound presence. Not so good combination.
Here is his game log for the year. And for the bulimics in the reading audience, you're welcome:

                                 IP   H  R  ER BB K
Apr 17     NYM  L  1-8  L  0-1   4.2  8  3  3  2  6
Apr 22    @CIN  W  9-3  W  1-1   5    4  2  2  0  3
Apr 27     FLA  W  6-5           4.2  7  4  4  2  8
May  2    @ATL  L  3-4  L  1-2   5    7  4  4  2  2
May  7    @ARI  L  3-4           6    5  2  2  0  2
May 12     CHC  W 11-7           6    8  3  3  2  5
May 17     MIL  L  2-3  L  1-3   5.2  7  2  2  2  5
May 23    @FLA  W  8-7           6    5  3  3  3  4
May 28     ARI  L  4-5  L  1-4   8    7  3  3  2  9
Jun  3      SF  W  9-8           5.1  9  5  4  2  5

Add to it Garcia's third inning grounder to second base where he made a right turn towards the dugout and stopped running BEFORE Ray Durham had even thrown the ball, and you have yourself the makings of Philadelphia's next anti-hero. If there's one thing this fan base will not stand for, it is not performing to your ability while looking lazy and apathetic at the same time (unless you're Bobby Abreu, then some people will still like you.)
-----------------------------------
When A Joke Isn't Funny...
So this whole "Ryan Madson as closer" business is for real. Are we watching the same team that Fuqua is? In what bizzaro-universe does Ryan Madson look like a respectable option to close games? I almost dueced in my trousers when that squirrelly bastard brought MadDog into face Barroid, who he got out only by the shear mercy of Vishnu. I find so much comfort in the dependability of his pitiful performances, that getting Barroid to ground out gave me chest pain. Of course, like a tablet of nitroglycerin he walked two in the ninth and the Giants tied up the game. Sweet failure, sweet relief...
-----------------------------------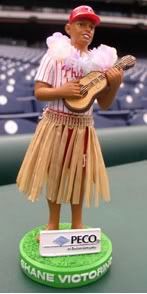 H
ULA !!!!!!
On the day the Phillies gave away the ugliest piece of memorabilia in the team's history, doll model Shane Victorino slammed a ninth inning home run to beat the Giants. Great for Shane and the Phils, but I can't get past this doll. For starters, it looks nothing like Victorino. Maybe a 12 year old Vic, but not Phillie Vic. Second, I find the grass skirt, lei and ukulele to be a little too much "ethinic stereotyping." What's next, Charlie Manuel doll in overalls with a corn-cob pipe, on bended knee proposing to a figurine of his sister? Stupid. Then again, maybe this giveaway is just a few years late, because a Vicente Padilla doll with oversized hat, poncho and tequila bottle would be pretty cool...
-----------------------------------
Don't Go There, Jack Taschner
Priceless response by Benjie Molina to the 1-2 pitch Ryan Howard took over the centerfield fence. Hopefully that will be Youtube'd soon. Until then, enjoy the last big homer by Howard.