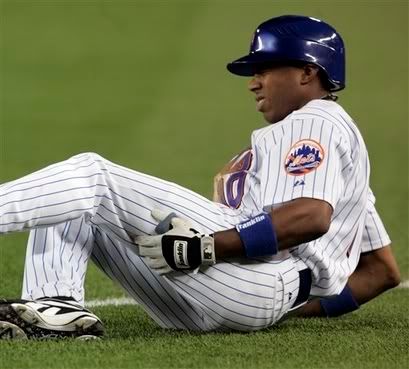 At least that is what Sarge said Jimmy Rollins did last night with his 3-run jack off of Aaron Heilman. I've never "clutched up" before and frankly, I didn't even know what it was until last night. Then, amazingly, Aaron Rowand was deemed by Sarge to have "clutched up" with his run scoring single in the 8th. "Clutchin' up," jeez, Sarge is horrible.
The Mets did their best Phillies impersonation last night, taking a very winnable game and blowing it with poor baserunning, untimely hitting, and a garbage bullpen. Special shout-out to Inning-Endy Chavez and his jacked up hamstring; without him and his 6-4-3 double-play, last night would not have been possible.
---------------------------
Winning Despite Our Coaches
The Phils won again last night, but this can't continue if the coaching idiocy we've seen lately continues.
On Sunday, Ryan Madson comes up to bat in the bottom of the 8th with a 1 run lead and a runner on 2nd with two outs. Instead of pinch-hitting and going for the insurance run, he leaves Madson in, giving up the chance for the run so Madson can start the 9th (???) Of course, Madson walks two of the first 3 batters and the Giants tie it in the 9th. Stupid.
On Monday, Manuel rests Burrell against a lefty in favor of Werth, even though Burrell has hit .296 versus LHP in the last 3 years. Fine, Burrell is slumping and somebody else plays. I don't agree but I'll accept it. But don't bat Werth 5th! Aaron Rowand is tearing the cover off of the ball but "Werth has to hit 5th because that is where Burrell hits and if Werth plays for Burrell, he has to hit there too." It is this lack of flexability that is so frustrating. Of course, Werth leaves 5 men on base in the first 3 innings.
He did the same thing last night also, batting Dobbs 5th instead of moving Rowand up a spot, thereby stacking 3 lefties in a row. C'mon Chollie, mix it up a little bit...
On Tuesday, the blame falls on the 3rd base coach Steve Smith. They got rid of Bill Dancy, but apparently have found someone as equally bad at coaching 3rd base. All of the hilights on TV and articles on the 'net will focus on the stupid baserunning of Pat Burrell. You can't argue against that, but he should have gotten away with it. Utley should have been crossing the plate standing up as Burrell slid into 3rd. Smith has gotten so many runners thrown out by a mile or two, he doesn't know who to send and when. That play could have cost the Phils the game. Not only does Manuel need to go, he needs to take Steve Smith with him.
---------------------------
Slumping
Burrell got a rest again last night, the second time in less than a week, amidst a 4-19 streak. Although he did pinch-hit in a critical spot in the 7th, only to K on a check swing. Pitiful. I haven't given up on Burrell yet, not completely, but it's getting pretty close.
Shane Victorino, despite his cannon right arm, is 4 for his last 29.
Not to be outdone, Abe Nunez was 0-18 before his 10th inning single on Tuesday night. And after last night, he is 2 for his last 23.
None of these guys are "clutchin' up."
---------------------------
Draft Preview
The Phillies pick #19 in the first round of the MLB draft, which airs on ESPN2 today at 2:00. They also have picks number 37, 87, 107 and and 113, giving them 5 picks in the first three rounds. A nice change from a few years ago when they STARTED in the 3rd round (ahhh, Tim Moss.)
Some recent picks at #19 - Arizona 1B Conor Jackson, LA 1B James Loney, Pirates pitcher Sean Burnett, Toronto OF Alex Rios and not much else. Basically, it hasn't been a lucky spot to pick.
Potential picks:
Phuturephillies.com
has the Phils taking Vanderbilt reliever
Casey Weathers
, who sports a 97 MPH fastball and has the potential to be in a major league bullpen very shortly. Yahoo.com basically calls him a power-pitching Huston Street. Sounds good to me. Speaking of Yahoo!, they have the Phils taking LHP Josh Smoker, a prep player from Calhoun High in Georgia. Other sites have them taking other players I have never heard of. Basically, it's a crap shoot. And I don't follow amateur baseball that much, so I recommend Phuturephils.com or baseballamerica.com for tidbits on all the 1st round prospects. Full draft analysis next week...
Corey