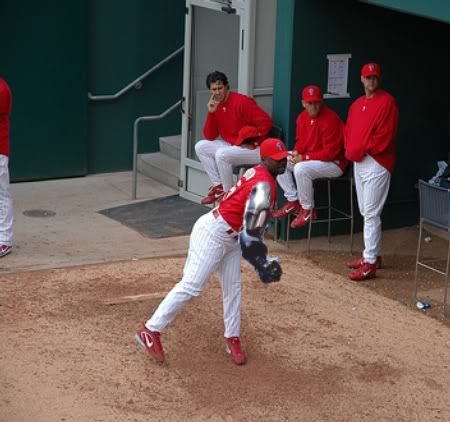 Tom Gordon
Gordon's rehab from shoulder injury is going better than expected, and WSBGM's has the scoop. I was at the game the other night and watched Gordon throw some pitches in the bullpen. Nothing spectacular at first glance, but if you look close at the snapshot I took, it looks like they completely rebuilt that right arm. Impressive work. I wonder if it was Dr. James Andrews or the guys from American Chopper who did the job?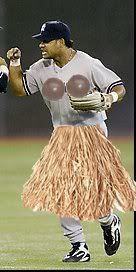 Bobby Abreu
Just to update the futility that is Bobby Abreu: Homerun Hitter. Last year I wrote on a few occasions about the impending fall of Abreu and how he should have been traded early last year (ie winter or spring training) due to the trends in his statistics that predicted a fall from greatness. I focused mainly on his severely declining power numbers and dropping average. Well, Charlie No-Hustle hasn't disappointed this year (unless you're a Yanks fan...) He is batting .235, which is far lower than Abe Nunez, getting on-base at a mere .316 (who's afraid to pitch to Abreu now?), and is on pace to hit...wait for it...7 homeruns. SEVEN! That is disgraceful for a superstar, OBP-Machine, Hall-of-Famer-T0-Be like Abreu. He's been dropped to bottom of the Bombers' order, is getting booed at home, torn apart on blogs and generally speaking, having an awful year. Meanwhile, CJ Henry is hitting .200 in LowA and Matt Smith just walked another batter...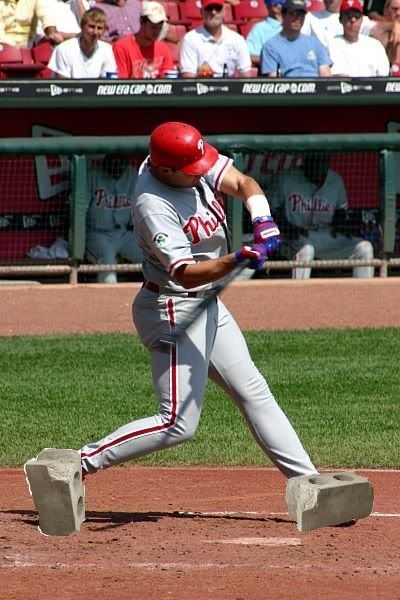 Pat Burrell
Burrell is looking to break a record this year. He narrowly missed the record for "Called Third Strike With RISP and Less Than 2 Outs" last year. Now he's after a better one, "Thrown Out At Second After Hitting It Off The Wall." He has asked the Phils to change left field to the Fenway/Baker Bowl configuration of a very high wall closer to homeplate to increase his chances. Although, he should break the record at the stadium's current setup, so don't look for a change.
Jon Lieber
I dont' really have an update on Jon Lieber, just a picture of him delivering a donut to homeplate, which I think is enough...
Have a pleasant Memorial Day, and if you don't have to work today, I hate you.
Corey