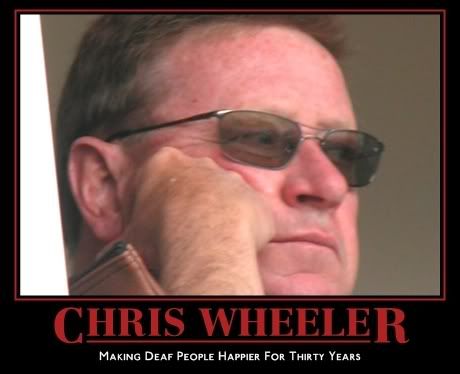 Don't forget to regularly visit:
Chris Wheeler Glossary
-------------------------

Game Notes
- Probably the best game all year, because I didn't have to listen to a single syllable from Wheels.
- Charlie Reliford (shown here sharing a moment with the great Lloyd McClendon) helped the team by calling Biggio out at home in the top of the third. I'm so used to seeing those calls go against the Phils, it gave me a weird feeling. I liked it.
- Abe Nunez got an RBI hit, but he's still an LOB machine. In his two starts, he's left 10 men on.

- Two IBB for Howard: one fly out, one RBI single for Burrell. He needs to continue to hit like this all year because they aren't going to stop walking Howard, no matter how bad he looks at the plate. He was also a few feet from a homerun. Damn I hate singles off of the wall...
- 3 scoreless from the pen. The key: no Madson.
- If Jimmy can continue hitting with decent power, why not move him to the 3 hole and move Utley up a spot, thereby breaking up the lefty-lefty order?
-------------------------

Game Preview
Freddy Garcia v. Wandy Rodriquez
If this game gets played, it should be a very interesting one, if only because it is Garcia's first start for the Phillies. A history of arm injuries combined with a DL stint before ever pitching a game for the Phils is ominous. I'm cautiously optimistic. His opponent, Wandy Rodriquez, has a career ERA over 5.50, which means he will likely throw a shutout. My prediction: since I have the day off and actually can sit down and watch the game live, it will get rained out. Freakin rain.
Corey