The Phillies outsmarted themselves this spring. And good for their ego, "themselves" are probably the only people they could outsmart. The "brain trust" put many jagged pieces together to make this puzzle of a bench: a right fielder who can also play catcher (Werth), a lefthanded hitter who can play the corners and the outfield (Dobbs), a utility infielder (Nunez), a speedy outfielder designated to run and play late-inning defense (Bourn) and a split-duty catching system. Sounds great. So great that they don't even need a .300 hitting utility man. You remember Chris Coste, don't you?
Chris Coste, that guy who hit .3-freaking-28 last year. The guy who waited until his mid-thirties to reach the show. The guy who provided energy, dependability, verstatility, and some clutch hitting in the Phils' chase for the Wild Card last year. The guy who currently is sitting in Ottawa, pissed off, trying to figure how he essentially lost his job...
"It's easily the lowest moment of my career,'' Coste told the Philadelphia Daily News. "Frustrating. Disappointing. Heartbreaking. You name it. It feels like I was given a lottery ticket and someone stole it right out of my hands."
There's a good chance Coste will be back with the Phillies this year. Not because the bench sucks (the 5 bench players are a combined 10-58 for a cool .172 average) because we all know no one loses their job for being bad, but somebody is likely to get hurt and a dependable utility man who can hit over .300 might be deemed useful again.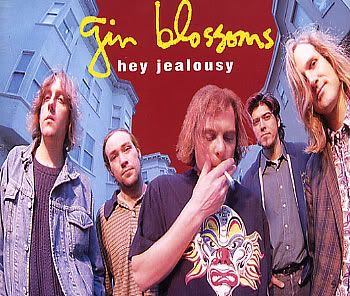 Of course, there's also a chance he may never see Broad & Pattison again. If he does't, he could go down in history as the Gin Blossoms of the Phillies. Like Coste's great season, the Gin Blossoms had one great album,
New Miserable Experience
, with a few great songs and top ten hits, and then were basically never heard from again. One hit wonders are a dime a dozen but one album wonders, like one season wonders on the diamond, are rare and often tragic. The Gin Blossoms lead singer killed himself after recording the album, Chris Coste ended up with the Phillies. Like I said, tragic.
Coste ended his interview with the Daily News by saying, "It's very painful not to be wanted by your own team after last year."
Sickening...
---------------------------
Last Night's Game
- More of the same: 23 LOB.
- It seems as if Carlos Ruiz coudn't throw Stephen Hawking out trying to steal second.
- Did anyone else get the feeling we were watching a rehab start last night? Lieber is in the bullpen, it is 30 degrees outside, the team is slumping and the Phils used the game basically as a rehab start for Garcia. We should all thank the Phillies for wasting our time...
---------------------------
Manuel v Burger King
Let's get it on!
Here are some links:
Bugs & Cranks
Beerleaguer
More on this as we hear it. Hopefully the video will end up on YouTube, if there is one.
Corey