We have a duty, as fans of the Phillies, to know as much about the team and organization as possible. That is why I think everyone should take a few minutes, go
here,
and get to know the 2007 Phillies ballgirls. By clicking on their faces you can learn such useful information as their birthdays, birthplace, school, music preference, hobbies and occupation (you mean ballgirl isn't a full-time gig??) And trust me, memorizing the hobbies of Phillies ballgirls is not a waste of time or at all creepy...
If you don't have time to read about all the girls, fear not, I've summarized it below: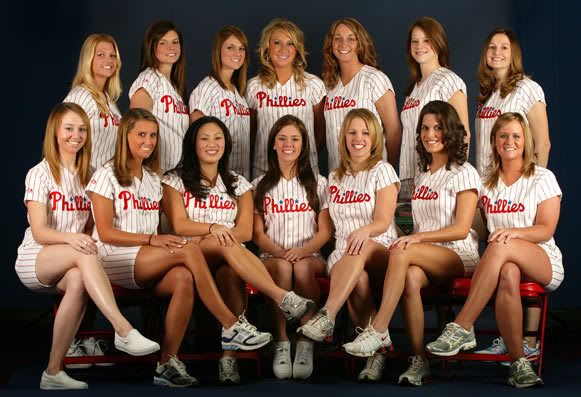 front row (L to R):
Teresa
- from Cork, Ireland, where the sun must not have been out in the last 20 years, given the pasty-whiteness of her fivehead. She lists "all types" as her favorite music, which means she's a liar.
Katie
- is a little too tan. And surprise, the "beach" is one of her hobbies. She's basically melanoma in a Phillies jersey, and I don't think the Phillies should be supporting cancer like this.
Sam
- from Seoul, Korea. Do you think she knows Chan Ho Park does not pitch for the Phillies?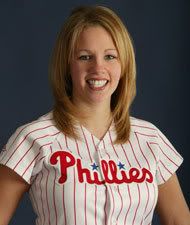 Kristin
- describes herself as "tiny, tiny, tiny" (odd.) and likes "nerdy puzzles and games." There's such a thing as non-nerdy puzzles?
Kristine
- has lots of teeth.
Jennifer
- lists her hobby as teaching yet her occupation is student. For some reason, I find this perplexing. Is she teaching herself?
Debbie
- does...nope, not going to make a "ball" joke. I'm above that...
back row (L to R):
Christy
- is a graduate of William Paterson University and is quite blonde, which doesn't hurt anybody.
Kate
- kind of looks shady. It says she went to Goldey-Beacom College, where she must have majored in Ballgirling (as did Pat Burrell) and minored in taking bad pictures.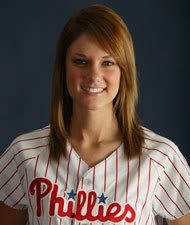 Justine
- is in the lead for my favorite ballgirl. A Levittown home and a Pittsburgh University education, she should love the Philly-'Burgh slant of WSBGM's.
Lindsay E.
- is second to Kevin Mench in largest head employed by an MLB franchise. And like Kunta Kinte, she has roots.
Jamie
- has the worst pic on the website. Great lighting guys, you made her look like Phantom of the Opera. She went to Holy Family University, which makes her better than us, or at least more holy.
Lindsay B.
- is the taller, whiter half of the dual-Lindsays. She like all music, "even country," which is like saying "Yeah, it sucks, but I'm cool with that." That, if you think about it, is like being a Phillies fan...
Jocelyn
- does not inspire me to write good things. She seems too old for this, like the high school kid who jumps in the ball-pit at Chuck E. Cheeses.
Corey