from Deadspin.com:
-------------------------------------------------
The One With the 'Stache and Perm...
I love Wikipedia. First the hotpants story, now this. Under their general Phillies entry, they list a few celebrity fans. Some nice names: Bill Cosby, Will Smith, Jerry Garcia, Kevin Bacon (Tremors is awesome...), Supreme Court Justice Samuel Alito. Can't complain about that. But then there are these guys: Ryan Phillippe (for some reason, I can't stand this guy...), Beanie Sigel (I thought it was celebrity fans?). But one guy stood out from all the others. John Oates. Yep, that John Oates. The guy who looks like the hideous result of a Ron Jeremy, Sal Fasano, and Super Mario threesome. The crappier half of Hall & Oates. (It fits though, they also list Art Garfunkel as a fan...) But still, the dude rocks. "You Make My Dreams" and "Rich Girl" are two great songs, and I know Carson is a "Maneater" fan. Seriously, he likes "Maneater."
------------------------------------------------
Time Saver
I want to thank the Orioles. Recently, they signed former Met pitcher Steve Trachsel. I don't really care that the O's seemingly took a starting pitcher from the Phil's rival (and pitching depleted) NY Mets. No, I'm excited because it means that I don't have to waste 4 freaking hours watching that overly-methodical jackass pitch any more. Step off the mound. Rub the ball. Toe the rubber. Look to first. Look to home. Shake off the sign. Step off again. Take off the cap. Wipe the brow. Toss the rosin. Toe the rubber. Look to home. Nod (slowly) in agreement. Come to the stretch. Look to first. Look to first. ENOUGH!!! He can feel free to bore fans all around the Junior Circuit with his ridiculous pace, but I think I speak for NL fans everywhere when I wish Trachsel a fond fairwell out of our league.
------------------------------------------------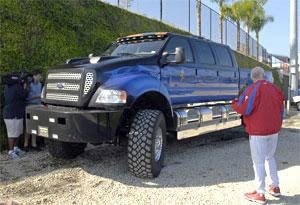 Hillbilly Wet Dream
This is Jon Lieber's truck. You can go to
Deadspin.com
and read all about it. What I find more interesting is that the picture of Jon Lieber's truck has C.F. Manuel in the foreground, drooling his Levi Garrett all over the ground. And of course it does, because Manuel is drawn to this truck like Odysseus to the Sirens. The love of big trucks, along with chew tobacco, foam-front hats and intra-family love, is ingrained in his white trash DNA. Ten bucks says he has slept in, on or under this truck since the day he saw it. I just hope this doesn't interfere with his concentration and affect his superb managerial skills...
Corey