A while back I did "Least Favorite Phillie" and promised "Favorite Phillie" was on the way. However, it seemed picking between Ryan Howard, Chase Utley and Danny Sandoval was kind of boring. So instead, I offer a series of polls to determine your favorite Phillie, position by position. First up: LF.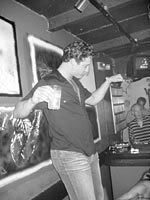 Pat Burrell
- if you've lived in the Philadelphia area anytime in the last half dozen years, you probably at least know somebody who knows somebody who knows somebody that Pat Burrell has hit on. P.I.M.P. You can't deny it. He gets more tang than an astronaut. But it doesn't stop with the women. He also partakes in other redeeming activities, such as smoking Marlboro red cigarettes and drunk dancing (see pic). He has a powerful swing that occasionally results in a ball flying over the left field fence. It's a long, sometimes awkward swing that often results with his right knee resting on the ground. But that is what Burrell does, he goes long and makes knees dirty. Don't hate the player, literally. And sure, he strikes out a lot (a lot...) and can't run. But who cares. He is eveything that many of us dream to be; a young, good-looking, drunk, womanizing, homerun hitting professional baseball player. He could have gone "Paul Byrd," started a new chapter of Baseball Church, stayed in on Friday night playing Minesweeper and maybe he wouldn't be so inconsistent, but he decided to have some fun at any expense. Well, God bless you Pat the Bat, you're my favorite Phillie.
Greg Luzinski
- We never saw Luzinski play for the Phils as he ended his career in South Philly at same time Carson and I were celebrated year of life one. But we've heard stories. Mainly, "Bull hit ball, ball go far." (Apparently retarded people told us stories...) And this quote from the
baseball-reference.com
's Luzinski page: "At 225 pounds he is a doorway and a half. They could hold the Winter Olympics on his shoulders, balance Rhode Island on his knees, and plug up leaky dams with his feet."--Phil Elderkin (1979). Good enough for me. Also, he grills meat. Mmmmmm.
Pete Incaviglia
- a member of the last great team...and in typical '93 fashion, Pete sported the mustache, stubble, and mullet. Also in line with the '93 team, Pete put the team first, embracing the leftfield platoon with Milt "Nintendo White Boy" Thompson. Mullet, facial hair, mammoth homeruns, platoon - he deserves a spot on the all-time favorite Phillies leftfielder list. On a personal note, in '93 I found a newborn puppy in a ditch while mowing my grandma's lawn. I took the pup home and named him "Inky," after my favorite Phillie at the time. I gave the dog away to a friend and he turned out to be a big, mean, loud dog. Perfect.
Honorable Mention:
Ron Gant
- Played only a season and a half with the Phils, but anybody that goes from being a skinny second base prospect to a bulked-up HR-hitting outfielder deserves honorable mention, because steroids prove dedication to a cause. Also, his trades to and from the Phils involved Ricky Blowttalico, Jeff Brantley, Garrett Stephenson and Kent Bottenfield. Good company.
Milt Thompson
- The other half of the '93 LF platoon. Milt is best known on this blog as the white guy from the Nintendo game Major League Baseball and as the Phil's hitting coach. Milt never hit over 7 homers in one season and was a sub-.300 hitter with the Phils, but he was on the '93 team and that trumps any stat.
Corey