We've put some pretty nice baseball cards of former Phillies on the blog, and these 4 are the finalists for the award...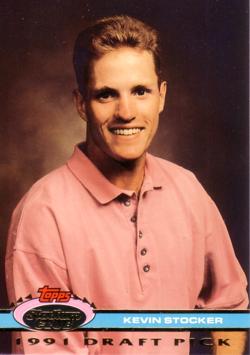 Kevin Stocker
- Silly smile. Puffy hair cut. Poor lighting that makes him look slightly corpse-like. That's all fine. But what is with the pink shirt? I doubt Topps sprung a photo shoot on him last second and he didn't have time to change. He picked that shirt to wear. That was a conscious decision. The man looked in his closet, moved a few hangers, and said to himself, "don't want to look like a tool, Kevin, better play it safe and go with the pink."
Mike Williams
- hmmmm. Cowboy? "Born-again" door to door Bible salesman? Porn Star? That evil smile, Glamour Shots one-leg-up pose, and robustache could mean sooooo many things. None of which I want any part of.
Mickey Morandini
- Mickey is not happy just representing baseball or the Phillies, this card shows us he wants to be the face of the great U.S. of A. And what a white-trash, horrible mustache-having face it is. And look at the hair sticking out from the cap. It looks like he actually moved the hat up and combed the hair down, just to show of his killer bangs.
Steve Jeltz
- this is a classic card. First of all, it is Steve Jeltz, maybe the greatest Phillie ever. And he's sporting the nice poweder blue uniform. Best of all, it is a close-up of that sweeet jheri curl. Nice.
I can't pick a winner, this one has to go to a vote.
Corey