I feel it is my duty to provide an alternate viewpoint to Carson on many issues...Abreu, what bullpen arm to sign, etc....and now, Christmas. Carson loves Christmas like fat kid loves cake. Me, I hate it. I hate Christmas carols. I hate people who can't sing, who sing Christmas carols. Seriously, shut up. No one wants to hear Little Drummer Boy in M-flat. I hate that fat, bearded
bastard in a red suit who sits in the mall and has a line of children waiting to sit on his lap and whisper in his ear. Am I the only guy who thinks that is a little weird? I mean, what sort of fellow signs up for that gig? If
Michael Jackson did that, people would have a fit. And to be real, he's given more presents to kids than that fake-ass punk Santa. Ask Macaulay Culkin. There better be a pretty good interview and screening process, that's all I'm
saying. I hate figgy puddy, too. I've never eaten figgy puddy, but I'm pretty sure it would taste like crap. I hate those giant inflatable snow-globes that poor people run to Wal-mart, throw down their welfare check for a dozen or so, then stick them in front of their trailer and illuminate them with flood lights. I hate the commercialization of
Christmas. It's not about celebrating the birth of ol' JC. No, it's about making cash money. How much crap can you sell? What crap will people buy? A singing wall-mounted fish, people buy it. An electric ice-scraper, people buy it. A chia pet, people buy it. And I also hate having to roll my rig up to Long Island for Christmas. Not because that is where the in-laws live, but because I have to walk around Yankee-fan and Met-fan for a few days. Ugh.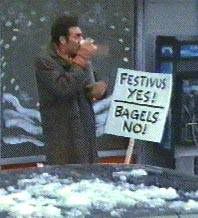 I'm don't want to single out Christmas either. I hate Hannukah. I hate Kwanza. I hate Festivus.
However, I promised Carson I would do a Christmas post. So here it is....
The 12 Days of Baseball
.
On the 12th day of baseball, the Phillies gave to me...
Twelve games behind the Mets
Eleven Gavin Floyd starts
Ten Manuel blunders
Nine inning of Chris Wheeler
Eight Abreu homers
Seven game losing steak
Six Wild Card failures
Five Fu-Manchus
Four useless middle infielders
Three Burrell hangovers
Two losses to Ian Snell
And a dollar for a hot dog!
Enjoy whatever holiday you are currently celebrating. Bah-humbug.
Scrooge McGrinch (Corey)