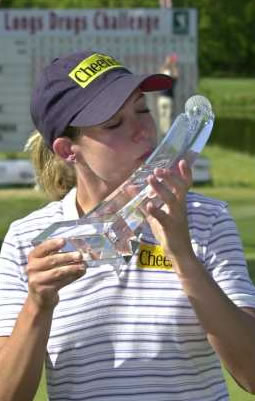 While Carson sorts through the rumors and misinformation that haunts the Hot Stove League like an ugly ex-girlfriend (why did you date her, anyway?), I'm going to shift my focus and do a "year in review" type thing. I'm going to offer up the best of best, from the Phillies, the Pirates, and the first 6 months of WSBGM's. All winners of these prestigious categories will receive a trophy like the one pictured to the right, being held (and kissed very lovingly) by Lesbian...errr,...Ladies PGA tour member Kristie Kerr. Today, the first award is handed out for:
Play of the Year
Runners-up:
1)
Aaron Rowand
smashing his grill in centerfield - "For who? My teammates. For what? To win." The greatest catch in Phillies history? Probably. But not enough to win
Play of the Year
.
2)
Shane Victorino
running over Paul LoDuca - more home plate collisions and bench-clearing brawls would be good for baseball. Violence in sports is down. Hockey players don't fight anymore, you can't lead with your helmet in football, and Jeff Van Gundy hardly ever bum-rushes the court and grabs Alonzo Mourning's leg these days. Baseball can secure some of the "violent sports" market by glorifying plays like this. I'm just doing my part.
3)
Ryan Howard
crushing a pitch 800 feet to centerfield - just think what would happen if Ryan Howard got to face Gavin Floyd in a game. Forget Asburn Alley, I think he could reach Darien St.
winner:
Sal Fasano
and his fake throw to second - enjoy your trophy, Sal, you big dumb animal.
Corey