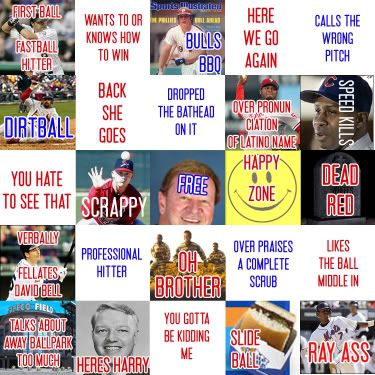 Every now and then I head over to
philliesphans.com/phorum
to see if Carson is getting verbally beaten-down by stat-heads. Today, I found a thread with a great pic that I just have to steal and post here. The thread is about Chris Wheeler being on the ballot for the Ford C. Fricke Award. From
philly.com:
"The late Richie Ashburn is among 200 names on the preliminary ballot for the annual Ford C. Frick Award. Announcer
Chris Wheeler
and former broadcaster Andy Musser also are nominees for the broadcasters' wing of the Hall of Fame."
Chris Wheeler for the Hall of Fame. I was so shocked when I read this, I checked the full list of candidates to see if my name was on it. Sure, I've never even been in a TV or radio booth, but I feel I've still contributed more to baseball than Wheels. Yesterday, Carson asked for your favorite Vet memories. Today, I want you to finish this sentence for me:
Chris Wheeler in the Hall of Fame is like ___________ .
some examples:
Gavin Floyd on a major league roster
Charlie Manuel and Ed Wade carpooling to a MENSA meeting
David Bell on a date with a woman
Bobby Abreu hustling in right field
Pat Burrell sober
Run with it, and don't forget to visit the
Chris Wheeler Glossary
at least weekly.
[thanks to "Woody" on phillieslphans.com/phorum for posting this pic, which is like crack cocaine to me, can't get enough]
Corey