From
mlbtraderumors.com
: 27 year-old Japanese third baseman Akinori Iwamura is being pursued by both the Phillies and the Indians. (The Indians!?!? Yeah, their Japanese imports made quite an impact. See below.) Pat Gillick mentioned that he has a lot of interest in Iwamura to play third for the Phils. You may recall that Gillick imported Ichiro back when he was GM of the Mariners. Another convenient factor is that manager Charlie Manuel has played in Japan before (picture proof below.) Manuel played for the Kintetsu Buffaloes and Iwamura's current team, the Yacult Swallows (I have to meet this Yacult person...)
First things first, what will it take to get Iwamura? Well, the Phils would have to win the bidding for the rights to negotiate with Iwamura, for which I've read varying estimates on the 'net, with some as high as $10 million. I'm guessing his posting fee is around $5 mil with an annual salary of close to that per year (Johjima got a little over $5 mil a year for 3 years, as a comparison.)
Next, if the Phils would get Iwamura, exactly what the hell are they getting. He's a 27 year old 3B/2B who's last three years in the Japanese league look like this: .300-44-103, .319-30-102, .309-32-77. He slugged between .540-.580, got on-base around .380, and had a 2 to 1 K:BB ratio. He also is reportedly a "gold glove" caliber 3B. Of course, Bobby Abreu and Derek Jeter both have gold gloves, so I don't know if that is a good attribute or not. Compared to other Japanese imports, his power numbers are better than Tadahito Iguchi and slightly less than Kenji Johjima. Both those players seem to be solid .280-20-70 players in the majors. But to say Iwamura would put up those numbers is slightly more complicated and less predictable than that. Just ask the Mets, Kaz Matsui's power went from 30 homers in Japan to 3 in Colorado. Ouch.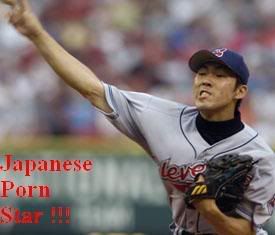 It is definately a risk. But if the Phils can't get A-Ram, I wouldn't mind seeing the Phils take this kind of gamble, if only to see the Phils be pro-active, rather than no-active. It's like seeing a little kid try to walk and fall flat on his face. Sure, he may just broken his tiny little nose, but at least he isn't that little fat kid who's to busy eating potato chips to even try (Ed Wade was that kid, except he wasn't fat, he just looked like a scrotum.) The worst thing that can happen is they find out he did
Japanese gay porn
....or that he is the Japanese Danny Tartabull. Danny-son!!!
Corey
I acutally found a Tartabull Phillies pic!