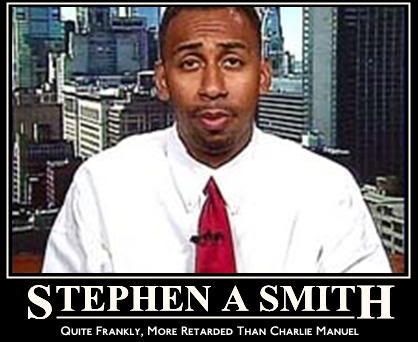 This clip of Stephen A Smith on Sports Reporters just came to my attention, and frankly, I'm blown away by it. He is talking about the great Ryan Howard and how he broke the Phillies all-time single season homerun record, but the real issue is Stephen A. blasting the Phillies. In the commentary, he states that before this season, the Phillies assessment of Howard was that could "barely hit..quality pitching," he "really can't play," his commitment is questionable, and he's fat. He goes on to imply that the Phillies wasted $85 million (ie Jim Thome) and that they should have been given Howard a shot instead. He finished his rant with a smart-ass comment about Howard's impending windafall of cash next year, in a "payday long overdue."
Now, I'm totally for ripping the Phillies when it is warrented. But this is the dumbest thing I have ever heard in my entire life, no exageration. To imply that last year the Phillies scouting report on their best position player was "fat, lazy and no good" is insane...and wrong. To his second point, how is bringing in one of the top lefthanded power hitters in baseball, having him hit 89 homeruns in two years while being a major link in the rejuvination of baseball in Philadelphia, a "waste?" Moreover, in 2002 at the time of the Thome signing, Howard was just finishing up a campaign in Lakewood where he hit a respectable .280 with 19 homers. Who in their minds would pass up Thome because a guy in Single A hit 19 bombs? While Thome hit 47 dingers in 2003, Howard was still in Clearwater. And finally, Howard isn't even a free agent next year. He can't cash in yet, he only has 1 year service time. Wow, 1 year of service time, that really is "overdue." Freaking idiot!
Steven A, "forgive me for bringing these points up," and "bes' believe" you are the biggest retard I've ever seen.
Here is the clip, enjoy:
Corey