There was some debate a while back as to the identification of a certain monkey and their nipple. Some said Sal Fasano. Other pointed their fingers at Sid Fernandez. But at last, the identity of that nipple is revealed, and it plays for the Phillies. As John Rocker so elequently put it: "Randall Simon is a fat monkey." Of course, now that Queen Beatrix of the Netherlands knighted Simon in 2003, he is now, and forever, known as Sir Fat Monkey.
Last time most of us heard of Sir Fat Monkey, he was getting released by the Buccos and prophetically saying, ""I'm a fighter. I promise you're going to see me again. You don't have to worry about that." Well, I did worry, because despite successful stints with the Orix Buffaloes, the Tijauna Dirty 'Stutes and the Oklahoma RedHawks I thought I may never see Randall Simon in the majors again, let alone as a Phucco. But now my worries are relieved, because the Genius GM formerly known as Pat Gillick brought his whack-a-mole (err, whack-a-sausage?) style of hitting to Philadelphia. That is, swing first, think later, take never.
--------------------------------
Rain Out
You think rain outs are bad? Last night, I was carbon-monixided out. That's right, the punk rock show I went to last night was cancelled half way through because the venue filled with smoke, carbon monoxide, and other relatively harmful fumes because the exhaust system broke, funneling air in from the neighboring building, which obviously is a mass-suicide-via-carbon-monoxide-poisoning dealership. Hell, two bands played right through, and the Phillies couldn't play in a little tropical storm? It wasn't even a hurricane.
--------------------------------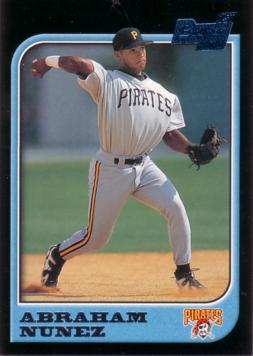 Bring back H-Mo Bell
I hate David Bell as much as the next guy, but I'm left wondering this morning: Why did the Phillies trade David Bell, if the plan all along was to play Abe Nunez? H-Mo Bell and his fairy-hopping antics were irritating, but they were much more palatable than No-Hit Nunez and his daily battle with the Mendoza line. How bad does he have to be, how much does he have to suck, for the Phillies to sit him down. Abe Nunez has hit over .250 twice in ten years. He's not going to "snap out of it" and start hitting. He's already in "it." He sucks. Get rid of him. Ahhhhhhhhh....
--------------------------------
Today's Games
1) Penn State v Akron - 3:30 - Did you know Beaver Stadium is in Happy Valley? Well I did, and despite the rain, I wish I was there. Randy Wolf probably does too (see below.) We Are, Penn State.
2) Phillies v Braves - Donut Eater v Villareal - 1:00 - Most likely will get rained out again, unless
Doug Glanville
can design, engineer, and construct a roof for the Cit by this afternoon.
3) Phllies v Braves - Mathieson v Davies - when it stops raining - last time Kyle faced the Phils, he looked more like
Laura Davies
, giving up a robust 6 runs in 4 and 2/3.
Corey