...Wild Card, that is.
First things first, the trip to the park yesterday was great. We were up and tailgating a little past 10:00. We downed a six-pack of Dunkin'Donuts in honor of yesterday's started, the Donut Eater Jon Lieber, and then moved to the cheese filled sausages, Hefewizen, High Life, Mountain Dew, and potato chips. That and our Phillies banter, which included lengthy and heated discussions about such hot topics as Ron Jones' brain hemorrhage, Phillies maroon shirts, Randy Ready's batting stance, and how long it takes Charlie Manuel to tie his shoelaces, took us up to the 1:20 first pitch.
We had decent seats for $16, behind home plate in the upper deck. The seat were made better by an attractive young lady who sat in front of us with her pants half-way down her rear and a dude who obviously rode to the game from 1987 in a flying Delorian, rat tail and all. (Sorry, no pick of the butt.)
The Donut eater obviously felt the Karma, Chooch Ruiz picks up Dellucci in the first for the biggest hit of the game, Ryan Madson continues to suck, and Charlie Manuel brings Gordon in with a 4 run lead when White also was already warm, and the Phils win 8-6.
Pics of the day are scattered above and below.
---------------------------------
Ryan Madson
Enough already with this guy. It took an arm injury to purge this team of Art Rhodes, what is it going to take to keep Madson off of the mound? Fabio Castro and Matt Smith do not pitch much because they are young and unproven. Fine, but under that logic, Madson has to sit, because he is proven...to suck. 45 games, 129 innings, and a 5.93 ERA. His ERA was 5.99 when he went to the pen, so that move obviously isn't working. He had early career success, but major league hitters have figured him out. He hasn't been able to adjust. Yet, seemingly because he was able to get people out at one time, he continues to work meaningful innings. On the bullpen depth chart, Madson has to drop.
----------------------------------
Tom Gordon
Tom Gordon and Rick White both warmed in the pen yesterday in the 7th/8th inning. The Phils scored two in the 8th to take a 4 run lead. Who does Manuel bring in, despite a recent shoulder injury and no more days off the rest of the way in the middle of a Wild Card chase? Tom Gordon, not The Beard. I think it was a stupid move. Pitch Gordon only when needed at this point. Of course, as idiots like Chris Wheeler would say, "He's already loose, you might as well bring him in." No. Anybody who thinks warming in the bullpen and pitching in a game affect your arm the same, have never pitched in a baseball game of any kind (ie Wheels.) Gordon had to throw 8 more warm-up pitches, then 14 in-game pitches. What if he had thrown 30 pitches to get out of the inning? Was it worth the risk in a 4 run game? It was completely unnecessary. Also, Geoff began warming up as soon as Gordon gave up the first homer, and continued until the end of the inning. If you are going to warm up Geary with a three run lead, why not just use he or White with a four run cushion? This sort of bullpen management could cost the Phillies. Remember last year?
------------------------------------
Brett Myers
From more than one source, there is discussion that if the Phils make the playoffs, and go to the 4-man rotation, Brett Myers should be the one to go to the bullpen because 1) he could pitch on consecutive days 2) he can get strikeouts. If you are in favor of this, you probably have someone assigned to you to assist with activities of daily living, because you are a low functioning retard. I'm not even going to give a counterpoint to this pathetic discussion, I just wanted to make some of you aware this is a discussion that is actually occuring among Phillies fans. Ugh.
------------------------------------
Pat Burrell
He gets praised often here for his addictions to nicotine, alchohol and women, but he is absolutely pathetic right now. He should only hit against lefthanders the rest of the season. They need to straight platoon him with Dellucci. With reference to the '93 team, Burrell=Incaviglia, Dellucci=Thompson.
------------------------------------
Freddy Sanchez
The player who was not good enough to be the Buccos starting third baseman (because 1)he doesn't hit for power and 2)he runs poorly because of his clubbed foot) currently has a .006 lead in the NL batting race, and trail Joe Mauer by .002 for the major league batting crown. Pirates talent evaluation, ya can't beat it!
------------------------------------
Predictions
These will change as the season goes, obviously, but if the Phils do make the playoffs, here are our World Series predictions:
Carson - Oakland vs. Philadelphia (because he's an optomist...)
Corey - New York vs New York (because I'm a masochist...)
-------------------------------------
Poll Results
Thanks for voting. Beer beat out sausage as the number one tailgate necessity, and absolutely nobody wants to witness history if it is at their teams expense. I agree with both...
-------------------------------------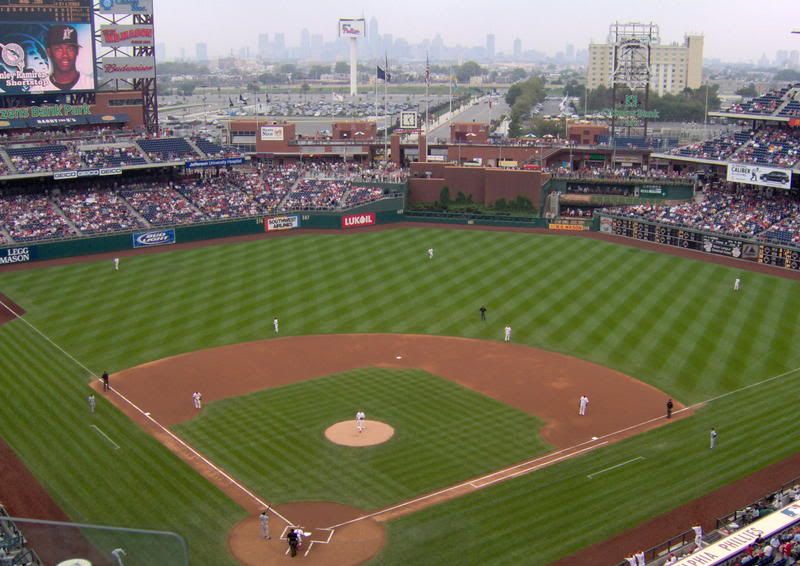 Today's Games
Phi/Fla - Jamie Moyer vs. Scott Olsen - Olsen is tough on the Phils. Moyer gets a Senior Citizen's Discount at Denny's. Advantage Phils.
LA/Ari - Hong-Chih Kuo vs. Livan Hernandez - Kuo is listed as 6'0" 237. Livan is listed as 6'2" 245. Advantage D-Backs.
SD/Pit - Clay Hensley vs. Marty McLeary - Hensley once traded by SF. McLeary once released by SD. Revenge game. Advantage Buccos.
Sorry, long blog today. Had to get those bullpen rants off of my chest. Have a good one everybody and E-A-G-L-E-S Eagles.....I mean, Go Phillies.
Corey